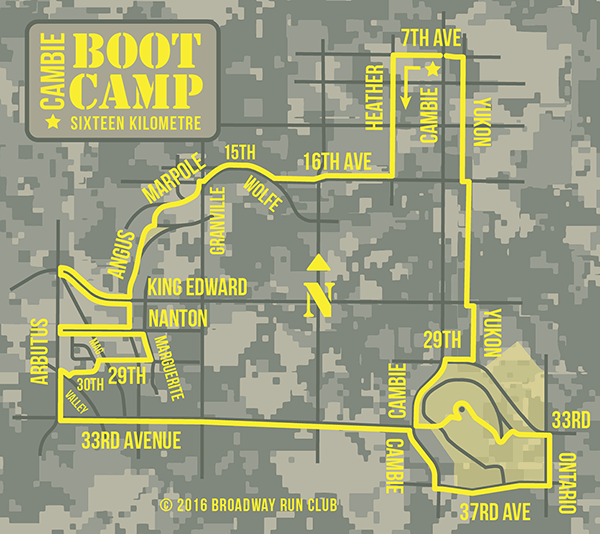 The Cambie Boot Camp Run is a hilly 16-kilometre run from Cambie and 7th Avenue based on the original Broadway Boot Camp Run we did in our Broadway Running Room marathon clinic. The original Boot Camp Run was an amalgamation of some of the favourite hills we did as individual repeats during the hill training phase of our marathon training at Broadway — King Ed, Nanton, and 29th Ave — as well as climbs on Fir/Marpole, Arbutus, 37th Ave and culminating with the long haul up to the top of Queen Elizabeth Park.
The new Cambie Boot Camp Run follows a similar path but after descending 29th, turns south on Arbutus and then follows 33rd to Queen Elizabeth Park up the C to C hill between Cypress and Connaught and the little kicker of a hill just past Eric Hamber Secondary.
Once you reach the Lions Clock at the top of Queen E, drop and give us twenty!
Turn-by-Turn Directions:
WEST on 7th Ave — LEFT on Heather St — RIGHT on 16th Ave — RIGHT on Wolfe Ave > 15th Ave — LEFT on Marpole Ave — cross Granville St and turn LEFT — RIGHT on Marpole — RIGHT on Angus — RIGHT on King Edward — cross King Ed at Arbutus St and turn LEFT back up King Ed — RIGHT on Angus — RIGHT on Nanton — turn around at Arbutus and run back up Nanton — RIGHT on Marguerite — RIGHT on 29th — cross Pine St and old rail bed to road — LEFT on Magnolia St — RIGHT on 30th Ave — RIGHT on Valley Drive — LEFT on Arbutus — LEFT on 33rd Ave — RIGHT on Cambie St — LEFT on 37th Ave — LEFT on Ontario St — LEFT on near sidewalk at 33rd Ave and take first LEFT and climb to Lions Clock at top of Queen Elizabeth Park — run 180 degrees counter-clockwise around the Bloedel Conservatory and take pathway down and turn RIGHT on 33rd — RIGHT on Cambie — RIGHT on 29th — LEFT on Yukon — LEFT on 7th